Richard (Dick) Groppe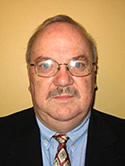 Como ex-socio fundador de WIA, Dick supervisaba el desarrollo y administración de la compañía hasta su jubilación en 2006. Trabaja actualmente con otros "Senior Advisors" para proporcionar una singular orientación a los clientes de WIA. Dick aporta 40 años de experiencia en la industria del seguro y reaseguro.

Antes de participar en la fundación de WIA, Dick tuvo el cargo de Presidente y COO de la División Internacional de "Group Hospitalization and Medical Services, Inc." (GHMSI), también conocida como "Blue Cross and Blue Shield of the Nacional Capital Area" (BCBSNCA) y fue responsable de establecer a nivel mundial, operaciones de seguro y reaseguro de salud en 40 países. Dick cuenta con una vasta experiencia habiendo participado como miembro en un sinnúmero de juntas de consejo corporativas.

Dick es egresado de "Loyola College" (Baltimore, Maryland). Tomó cursos en el "Kellogg School of Business", así como ha sido expositor en diversas conferencias internacionales sobre administración de riesgo, alianzas estratégicas y planificación estratégica.