Guido A. Guerrero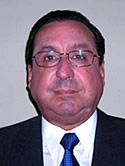 Guido is the president of "Guerrero González & Asociados" that provides brokerage and consulting services in the Dominican Republic insurance marketplace.

Prior to starting his own firm, he served as the Vice President of Sales for "Seguros Popular", and was responsible for product development and marketing. He also served as Vice President of "Grupo Asegurador AmErica"; Vice President of "La Americana, S.A.", and Manager of Sales, American Life Insurance Company (ALICO).

Guido's vast experience in the personal lines business and marketing has made him a valuable asset to our Senior Advisors team.