James L. Almaraz – Managing Partner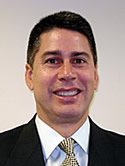 James serves as Managing Partner, is a founding member of WIA and oversees WIA's risk management operations including risk evaluations, premium sufficiency, pricing, reinsurance strategies, reinsurance conditions, reinsurance treaty language and product design.

James' prior experience includes the position of Senior Director, International Division of Group Hospitalization and Medical Services, Inc. (GHMSI), also known as Blue Cross Blue Shield of the National Capital Area (BCBSNCA), where he was responsible for the pricing and management of reinsurance risk operations in 40 countries. He was responsible for managing an international reinsurance risk portfolio in excess of USD$50 million.
"
James received his Actuarial Science degree from "Universidad Anahuac" in Mexico City and graduated from the Certified Information Systems Specialist Program from George Washington University (Washington, D.C.).