Rafael Cubillán B.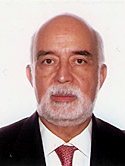 Rafael is the founder of "Consultoría de Seguros Rafael Cubillán B. y Asociados" that provides consulting services to brokers, insurers and corporations.

Prior to founding his firm, Rafael was the Chief Executive Officer of "Seguros Mercantil" in Caracas, Venezuela. He was responsible for the multi-product operations of a general lines insurance company. He also served as the Chief Executive Officer for "La General de Seguros" and "Seguros La Unión". He has served as the President of the Venezuelan Insurance Chamber and Insurance National Council. He also served earlier in his career as the Vice President of the Venezuelan College of Insurance Agents. His unique and extensive experience can provide time-tested guidance to our clients.

Rafael received his degree from Andrés Bello Catholic University, Caracas and continued his postgraduate studies in the College of Insurance in New York. He also attended the Swiss Training Centre in Zurich. He has been a speaker at various conferences sharing his wealth of experience to the Latin American insurance industry.