Ramón A. Morales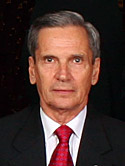 Ramón is currently a management consultant advising insurance companies.

Prior to providing advice to companies as a management consultant, Ramón served as Ambassador, Permanent Representative of the Republic of Panama to the United Nations. He has also served as the Executive Vice President of Life for "ASSA Compañía de Seguros" (Panama); General Manager and Executive Vice President of "Metropolitana de Seguros de Vida" (Panama); Regional Administrative Director (Central America) and General Manager (Panama) for American Life Insurance Company (ALICO). Ramón's diplomatic and insurance expertise provides a unique level of consulting services.

Ramón has also served as the president of the Panama insurer's association, vice president of the Private Enterprise Council and is a member of the Academic Council on the United Nations System (ACUNS). His unique background provides our clients with valuable advice and guidance.