Richard (Dick) Groppe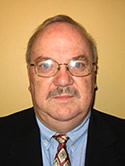 Dick, as a former founding member of WIA, oversaw the development and management of the company until his retirement in 2006. He currently works with other Senior Advisors to provide unique and experienced guidance to our clients. He lends his considerable 40 years of experience in the insurance and reinsurance industry.

Prior to founding WIA, Dick held the position of President and Chief Operating Officer of the International Division of Group Hospitalization and Medical Services, Inc., also known as Blue Cross Blue Shield of the National Capital Area (BCBSNCA), and was responsible for establishing worldwide health insurance and reinsurance operations in 40 countries. He has a vast wealth of experience serving on numerous corporate boards.

Dick received his degree from Loyola College in Baltimore, Maryland. He has attended the Kellogg School of Business and various international conferences as a speaker/lecturer on risk management, strategic alliances and strategic planning.