Rafael Freire Sarria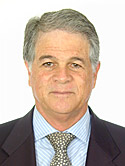 Rafael is a partner at "Stewart-Freire y Asociados", providing brokerage and consulting services for all lines of business in Peru, to individuals, corporations and insurance companies.

Rafael served in multiple positions with "RIMAC Internacional Cía. de Seguros" over his 37 years of work experience. His positions included Manager of the Commercial Division, Manager of the Technical Division, and Manager of the Operations Division. He also created and served as the CEO of "RIMAC Internacional EPS" as well as the representative to the Zurich Financial Group.

Rafaels' professional education includes the "Instituto Superior de Seguros", College of Insurance of New York, and the Chartered of Insurance Institute of London. He currently provides consulting services at the executive level to major insurance companies in Peru and to major corporations. This unique experience provides important added value to our Senior Advisors team.